An Introduction from RVM's Executive Director, Laura Pinney
Emilio is super smart and has a kind of wisdom that is rare; he is warm, funny, grounded, and totally committed to improving the lives of youth. Cassandra comes to us after being a preschool teacher with Head Start. She is also super smart, funny, wildly creative, courageous, great at games and passionate about supporting youth. Both of them are going to be supported by our Program Director, Kat DeCayette. Kat is adventurous, sees the big picture while also being able to hone in on the details, she is caring, clear, fun, and an incredible writer.
Learn more about them below, or meet the whole RVM Team here!
All RVM staff are carefully background checked and vetted, then thoroughly trained in concepts and skills important to building resilience and empowering youth.  Trainings including strengths-based communication, trauma-informed care, adolescent development, avoiding bias, youth mental health, suicide intervention, and de-escalation.  All staff undergo on-going training, and background checks are conducted every 2 years.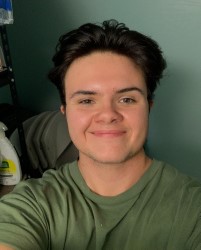 Emilio McCutcheon
YLAB Lead / Lead Mentor
Asking questions and learning on the way is Emilio's philosophy in life. While he is observant and curious, Emilio McCutcheon has a passion for human mental well-being; he aspires to be the shoulder for people to lean on during times of strife, and he is also open to talking about anything and everything. He is excited to be working with youth from many different backgrounds, and hopes to be a positive role model for them along the way.
Outside of Rogue Valley Mentoring, Emilio loves to travel, and explore the beauty of the west coast. He is always up for a long run and a day trip to a new place. He is studying for his Bachelor of Science degree in Psychology; he someday hopes to get his doctoral degree, and continue to help at-risk youth in his work.
Cassandra Unbankes
Lead Mentor
"Hi, my name is Cassandra Unbankes. I'm passionate about working with the youth in our community. I interact with youth through a trauma informed lens. I'm graduating this December with a Bachelors in interdisciplinary studies, with an emphasis on Education and Early Childhood Development. I plan to pursue a Masters in Social Work.
In my spare time I enjoy hiking, going to church, and spending quality time with my twin sister and my partner. I have a Border Collie, named Delilah, and she is my baby. I love learning new things, and making an impact in our community through outreach services."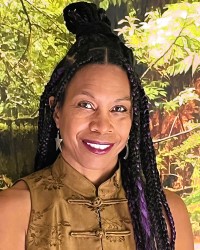 Kat DeCayette
Program Director
I see my journey as an amazing tapestry woven with adventures, memories and meaningful relationships. My daughter, Krista, and my cat, Maji, are central to and inspire the beautiful and ever-changing fabric of my life.
I'm passionate about making a difference in the world and helping others make a difference in their lives. Teaching, listening, sharing, these are my cornerstones. One of the most rewarding steps on my life path has been as an educator. I taught High School English, where I both empowered and became empowered by my students through the singular gift of education—the willingness to listen, to share and to learn.
Working as Program Director for Rogue Valley Mentoring is natural to my journey. We all have the ability to leave a meaningful footprint—a small gift of ourselves that shapes the world in which we live.
It comes down to choice. The choice to care about the legacy we leave and our imprint on the lives around us. As Program Director for Rogue Valley Mentoring, I am afforded the opportunity to work with incredible individuals who care about the youth in our communities, to share knowledge and ways of being that facilitate empowerment and aid in choosing a mindful legacy—that footprint on a path toward meaning and making a difference.